Ski Jumping
Women's individual ski jumping was held at Alpensia Ski Jumping Stadium. The medalists of this event are:
Gold: Maren Lundby (Norwegian)
Silver: Katharina Althaus (Germany)
Bronze: Sara Takanashi (Japan)
Following the 2014 Sochi Winter Olympics, this was the second time women have competed in ski jumping.  
Image: Takanashi finishes with a total of 243.8 points, earning a bronze medal. (Image courtesy of Japan Times)
Ice Skating
Canada dominated in the team skating event as well as ice dancing.
Men: 
1st: Patrick Chan (Canada)
2nd: Mikhail Kolyada (OAR)
3rd: Adam Rippon (United States)
Ladies:
1st: Alina Zagitova (OAR)
2nd: Mirai Nagasu (United States)
3rd: Gabrielle Daleman (Canada)
Free Dance:
1st: Tessa Virtue / Scott Moir (Canada)
2nd: Maia Shibutani / Alex Shibutani (United States)
3rd: Ekaterina Bobrova / Dmitri Soloviev (OAR)
Cumulative Result:
Gold: Canada
Silver: Olympic Athletes from Russia
Bronze: United States
Illustration: Sheri Kim 
Image (bottom): Team Canada won gold in team ice skating. (Image courtesy of Mladen Antonov)
Snowboard
The Ladies' Slopestyle was held at Phoenix Park Stadium in icy and windy weather conditions, making it one of the most dangerous days in sports history. Instead of the usual three, only two final runs were held. The medalists of this event are:
Gold: Jamie Anderson (USA)
Silver: Laurie Blouin (Canada)
Bronze: Enni Rukajarvi (Finland)
Although there were no severe injuries, of the fifty  competitors, forty-one of them fell after not being able to build enough speed to reach the crest. Meanwhile, Ladies' Halfpipe Qualifying Runs 1 and 2 were held.
Image: Cheryl Maas from the Netherlands was one of the many females who lost control due to weather conditions. (Image courtesy to the Press- Enterprise)
Speed Skating
The Ladies' 1500m Speed Skating was held at the Gangneung Oval Stadium. The medalists of this event are:
Gold: Ireen Wust (Netherlands)
Silver: Miho Takagi (Japan)
Bronze: Marrit Leenstra (Netherlands)
Wust tied the Olympic record for speed skating when she earned her first gold at PyeongChang 2018, her tenth medal overall making her the most decorated Dutch Olympian.
Image: Wust earns her tenth medal, a gold in speed skating. (Image courtesy to Reuters)
Biathlon
The men's 12.5 km and the women's 10 km pursuits were both held at the Alpensia Biathlon Centre. The medalists are as follows.
Men:
Gold: Martin Fourcade (France)
Silver: Sebastian Samuelsson (Sweden)
Bronze: Benedikt Doll (Germany)
Women:
Gold: Laura Dahlmeier (Germany)
Silver: Anastasiya Kuzmina (Slovakia)
Bronze: Anais Bescond (France)
Image: Laura Dahlmeier skis during the women's 10 km pursuit. (Image courtesy of Andrew Medichini)
Freestyle Skiing
The Men's Moguls Qualification 2 and Finals 1, 2 and 3 were held at Phoenix Park. The medalists for this event are:
Gold: Mikael Kingsbury (Canada)
Silver: Matt Graham (Australia)
Bronze: Daichi Hara (Japan)
Image: Mikael Kingsbury celebrates win. (Image courtesy of Kin Cheung)
Curling
The Curling Mixed Doubles Semi Final were held at the Gangneung Curling Stadium. Canada won against Norway with a score of 8 to 4, while Switzerland beat OAR 7 to 5. Canada will play Switzerland for gold on 13 February.
Image: Canadians, Kaitlyn Lawes and John Morris, celebrate their win. (Image courtesy of Dean Mouhtaropoulos / Getty Images)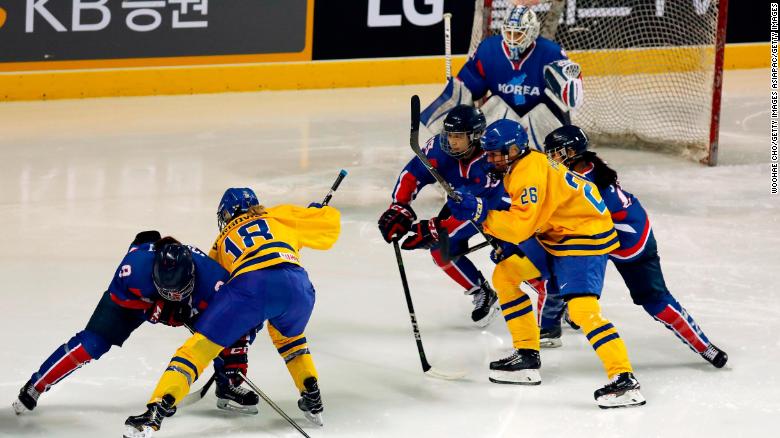 Ice Hockey
The Women's Preliminary Round for Group B was held at the Kwandong Hockey Centre. Japan's hope to advance in the PyeongChang Olympics was lost after losing 3-1 to Switzerland.  Meanwhile, Sweden won against Korea 8 to 0. The Koreans will face their biggest Asian rivals, Japan, on 14 February to finish the preliminary round play.
Image: Sweden beats unified Korean hockey team. (Image  courtesy of CNN)