The XXII Olympic Winter Games, held in PyeongChang, South Korea, continued on 11 February 2018. The second day, discounting pre-opening ceremony competition, featured Canada's first medals of these games.
Biathlon 
The men's 10 km sprint was held in Alpensia Biathlon Centre. The medalist of this event are:
Gold: Arnd Peiffer (Germany)
Silver: Michael Krcmar (Czech Republic)
Bronze: Dominik Windisch (Italy)
It was an unexpected win for Peiffer, as two of the favourites both missed three shots in their opening shoot.
Image: Arnd Peiffer celebrates during the victory ceremony. (Image courtesy of Murad Sezer/Reuters)
Curling
The seventh session of the Mixed Doubles Curling Round Robin was held in the Gangneung Curling Centre to determine who would be proceeding to semi-finals. Canada's Kaitlyn Lawes and John Morris won against South Korea to retain their first-place ranking, and Norway won a tie-breaker against China, qualifying themselves for the semi-finals. Canada, Switzerland, Olympic Athletes from Russia (OAR), and Norway have now qualified for the semi-finals and China, Korea, USA, and Finland have been eliminated from medal contention.
Image: Kaitlyn Lawes and John Morris of Canada beat South Korea, placing first overall for Mixed Doubles Round Robin (Image courtesy of Dean Mouhtaropoulos/Getty Images)
Ice Hockey 
The Women's Preliminary Round for Group A was held at the Kwandong Hockey Centre. USA won against Finland 3 to 1 while Canada beat OAR 5 to 0.
Image: Canada beats OAR by 5 points (Image courtesy of GETTY Images)
Luge
Women's Singles Training Run 5 and 6 and Doubles Training Run 1 and 2 were held at the Olympic Sliding Centre.
Men's Singles also competed in Run 3 and 4 to complete their competition. The medalists for Men's Singles are as follows:
Gold: David Gleirscher (Austria)
Silver: Chris Mazdzer (USA)
Bronze: Johannes Ludwig (Germany)
Germany's Felix Loch was widely considered the gold-medal favourite coming into the competition. However, he did not win his third consecutive gold  after mistakes on the fourth and final run and instead came in fifth. Meanwhile, the USA earned their first medal in Men's Single Luge.
Image: Chris Mazdzer earns US the first medal in men's single luge. (Image courtesy of Edgar Su/Reuters)
Snowboarding
The medalists for Men's Slopestyle Final Run 1, 2 and 3, held at Phoenix Park, are as follows:
Gold: Redmond Gerrard (USA)
Silver: Max Parrot (Canada)
Bronze: Mark McMorris (Canada)
17-year-old Redmond Gerrard of the USA is the youngest Olympian to medal in snowboarding. Mark McMorris of Canada surprised everyone by earning his second bronze in Men's slopestyle after sustaining life threatening injuries in 2017. Meanwhile, Women's Slopestyle qualification runs were cancelled due to bad weather, causing all twenty-seven athletes to compete in tomorrow's finals without qualification.
Image: Bronze medallist Mark McMorris, left, and silver medallist Max Parrot, both of Canada, celebrate. (Image courtesy of Jonathan Hayward/CP)
Cross Country Skiing
The men's 15 km + 15 km skiathlon was held at Alpensia Cross-Country Centre. Norway swept the podium, with the following athletes winning medals:
Gold: Simen Hegstad Krueger (Norway)
Silver: Martin Johnsrud Sundby (Norway)
Bronze: Hans Christer Holund (Norway)
Image: Norway sweeps the podium. (Image Courtesy of NBC Olympics)
Figure Skating
In figure skating, the team event continued in the Gangneung Ice Arena with the ice dance, ladies' short programs, and pairs' free skate. In ice dance, Tessa Virtue and Scott Moir dominated, earning the full ten points for Canada, followed by athletes from USA and OAR. In the ladies' competition, Evgenia Medvedeva of the OAR placed first in the group with ten points, a new world record. Carolina Kostner of Italy and Kaetlyn Osmond of Canada were second and third, respectively.
The night ended with the remaining five teams—Canada, OAR, USA, Italy, and Japan—competing in the pairs' free skate. The Canadian team of Meagan Duhamel and Eric Radford earned the top score despite nearly falling on a quadruple salchow throw to earn ten points, followed by athletes from Italy and OAR. The event finishes on 12 February, with free skates in the men's, ice dance, and ladies' events.
Image (top): Tessa Virtue and Scott Moir of Canada skate their short program in the team event. (Image courtesy of Julie Jacobson/AP Images)
Image (bottom): Eric Radford lifts Meagan Duhamel in their long program; the Canadian duo won the pairs' free skate portion of the team event. (Image courtesy of AFP/Getty Images)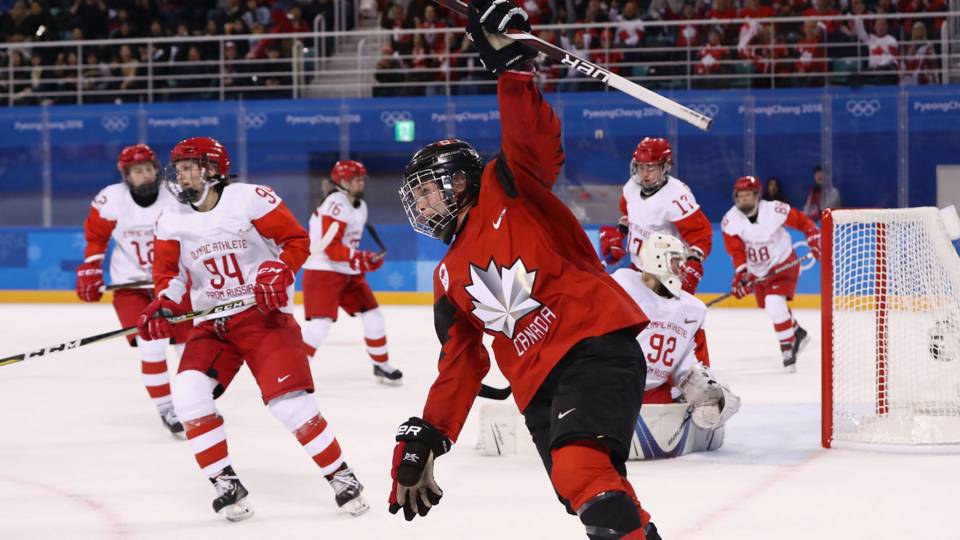 Freestyle Skiing
The Ladies' Moguls Qualification 2, Final 1, Final 2, and Final 3, were held at Phoenix Park. The medals for Final 3 are as follows:
Gold: Perrine Laffont (France)
Silver: Justine Dufour-Lapointe (Canada)
Bronze: Yulia Galysheva (Kazakhstan)
19-year-old Perrine Laffont won gold for France, becoming the first from France to win a medal in this event.
Image: 19-year-old Perrine Laffont from France won gold. (Image courtesy of NBC Olympics)
Speed Skating
The Men's 5000m event was held at Gangneung Oval with the following medals awarded:
Gold: Sven Kramer (Netherlands)
Silver: Ted-Jan Bloemen (Canada)
Bronze: Sverre Lunde Pedersen (Norway)
Kramer earned his third consecutive gold medal and set a new Olympic Record in the process.
Image: Kramer wins his third consecutive 5000m gold. (Image courtesy of NBC Olympics)